The Scottish Power Kite Association
The SPKA has been running for a number of years providing third party Insurance for participants of Power Kite related activities. Power Kiting comes in a number of forms, Kite Buggying, Kite Landboarding, Kite Surfing, Snow Kiting, Kite Jumping and Scudding.
Important Insurance Information
To all current members, following the Annual General Meeting of the Association, on 12 September 2015, it is with regret that after so many years of providing a conduit for third party insurance cover for power kite related sports, it is no longer viable for the Association to continue with the existing facility. This is a commercial decision due mainly to the falling membership numbers and the ever increasing costs; to continue would require such an increase in membership fees that we would no longer be able to offer a competitive alternative to other available facilities.


SPKA Membership
Update, 1 June 2016: All existing memberships will still be honoured and full third party insurance cover will still be in place until the expiry of your current membership, up until 31st August 2016. Currently we are not offering any renewal options for expiring memberships.
We are affiliating with the British Kitesports Association (BKSA) and expect to be able to provide annual renewal as an affiliated organisation within the near future. In the meantime if your renewal is due, we recommend joining the BKSA.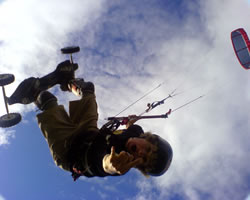 ---
Comment on the SPKA
If you would like to comment or suggest something relating to any aspect of Power Kiting in Scotland or the SPKA please do not hesitate to contact the committee via the contacts page. Or simply This email address is being protected from spambots. You need JavaScript enabled to view it..