The Scottish Power Kite Association
The SPKA has been running for a number of years providing third party Insurance for participants of Power Kite related activities. Power Kiting comes in a number of forms, Kite Buggying, KiteATB'ing, Kite Surfing, Snow Kiting, Kite Jumping and Scudding.
Summer Fly Dates changed
Due to the Scottish open golf championships being held at St. Andrews in the middle of July this year, our original chosen weekend for the Summer Fly would have clashed with all the preparation works for the golf event and created access and parking restrictions on the grass area we normally use. For this reason the committee have opted to move the event back 2 weeks and it will now be held on the 1st and 2nd of August. We'll hope to see you there for the award presentations and a general chill weekend.
Important Insurance Cover Changes - September 2014 onwards
Following recent negotiations for the on-going cover of the Association and its members with our broker Perkins Slade, from the 1st September 2014 Public Liability Cover has been renewed under Randall & Quilter Insurance Services policy number 220123.
Any claims arising since 1/10/13 onwards, will be under this policy. We have been able to renegotiate the excess under the policy from 1st September 2014, any claim shall now be subject to a £150.00 excess (reduced from the previous £500.00) for each and every claim made against property damage which will require to be covered by the individual member responsible. Competitor to competitor cover is still excluded for any member taking part in competitions.
SPKA Membership
Full membership held for yet another year, is £28, Family membership is £60 and Junior membership is £20 (under 18 at time of membership commencement/renewal).
The SPKA is able to offer the facility to join online. You can pay by credit card, debit card or PayPal. So Join Now!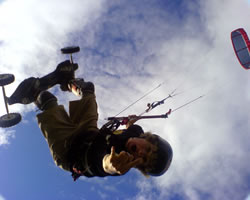 Kite Buggy Race Series Dates Season 2014-15
Now available on the events page.
Annual General Meeting
The provisional date for the 2015 AGM to be held in St. Andrews on Saturday 19th September 2015. Full details will be posted on the events page.
---
Comment on the SPKA
If you would like to comment or suggest something relating to any aspect of Power Kiting in Scotland or the SPKA please do not hesitate to contact the committee via the contacts page. Or simply This email address is being protected from spambots. You need JavaScript enabled to view it..